NOTE: Modified from original for ease in screen viewing.
---
There was no energy shortage this year when nearly 100 teens gathered outside of Perry, Georgia for the 2002 National Youth Advocacy Assembly (NYAA).
Each year high school youth from all 12 Reducing Underage Drinking Coalitions spend four days meeting their peers from other states, learning how to become effective advocates for a changed alcohol environment and having fun.
"NYAA is a wonderful week full of young people taking action on prevention underage drinking and sharing ideas. We always walk away with a feeling of fulfillment, excitement and increased knowledge."

---

"Through the week, we talk with other young people from the Robert Wood Johnson Foundation-funded states to share our frustrations and successes that come along with challenging field work."
This year Georgia hosted the event, welcoming attendees to the Future Farmers of America facility about 30 miles south of Macon. Even Georgia's weather was welcoming, with temperatures in the 80s and low humidity.
The Reverend Mr. Jesse Brown of Philadelphia set the pace when he challenged youth leaders to mobilize their peers. As the leader of the group that stopped the introduction of "Uptown" cigarettes in the African-American community. the Reverend Brown has seen the impact of adult power when partnered with youth and their energy.
By far the most stimulating activity was the Pleasantville community simulation. For the simulation, students were divided into role playing groups that represent aspects of the community—parent groups, the city council, alcohol retailers-wholesalers, print and broadcast media. Once group roles within thee community were established a scenario was tossed to the group. Pleasantville's City Council considered requiring beer keg registration. The newspaper covered the story and TV covered the hearing where advocacy groups provided compelling, self-written testimony on both sides of the issue. Alliances between groups were built, broken and rebuilt. The issues evolved through discussion, debate and compromise.
"It is always wonderful to meet and engage in activities along with peers who have the same values on this issue which we all feel so passionately about."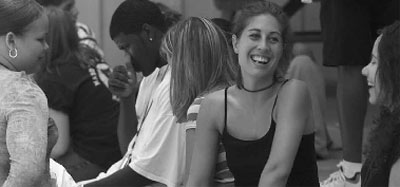 "The National Youth Advocacy Assembly came fast again this year. We were off to a camp outside Atlanta."
Program participants worked from authentic draft legislation. Participants learned how a bill or ordinance is constructed. More importantly, they had the opportunity to watch their impact of amendments.
What became immediately apparent to all was the sheer volume of human interaction in creating public policy. When "representatives" of elected officials, regulatory groups, advocacy groups and the media reviewed a subject over and over, participants experienced the complex interaction that creates public policy. Each participant learned how to view alcohol issues on many levels simultaneously.
"NYAA almost seems like a treat for us after working so hard al year! We are all looking forward to NYAA 2003 in Washington, D.C.!"

Between work sessions participants enjoyed cooking out under South Georgia's tall fragrant pines, swimming, playing an ongoing basketball game and getting to know one another.
Mothers Against Drunk Driving provided a little extra star power one evening with Fake ID, a three-screen multi-media performance. The program features some of the brightest music stars with clips from recent hits. Later, a trip to Six Flags theme park allowed everyone the chance to show off their new NYAA shirts, relax and have fun.
Part civics lesson, part prevention and part fun, the annual Assembly provided valuable lessons and created a team feeling that will last until the next Assembly.
---
© 2002 Exchange, Creating Solutions by Changing Environments, Fall 2002 issue, p.3