New American Medical Association Poll Finds College Binge Drinking a Top Concern for Parents
August 29, 2001 — Parents of college students have more worries than just the cost of their child's education, according to a poll just released by the American Medical Association1.Their concerns about excessive alcohol consumption by their children and the easy availability of alcohol in college communities were among the survey findings released today by the Matter of Degree program of the AMA.
The program, supported by the Robert Wood Johnson Foundation, aims to reduce binge drinking and its harmful effects on college communities.The University of Vermont, along with nine other leading universities, participates in the program.
Rather than approaching binge drinking as solely an individual problem, the Matter of Degree program emphasizes partnerships between the campus and community to counter the factors that contribute to binge drinking, like illegal sales to underage students.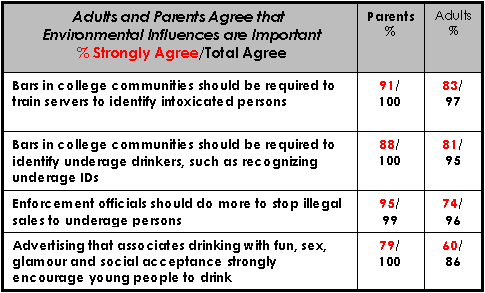 That's why the UVM athletic department removed alcohol industry sponsorship from its media guide for sports events and the City of Burlington instituted specialized training for staff members in Burlington's cabarets.And parents strongly favor such policies to curb high-risk drinking, the study found.
"The results of this survey validate that the policies we have implemented on our campus are the right approach to take in addressing high-risk drinking among our students," said Dave Nestor, Vice President for Student Affairs at UVM."Parents no longer see college binge drinking as a rite of passage, but as a major public health problem," Nestor added.
According to the poll, 95% of parents surveyed believe that excessive alcohol consumption is a serious health and safety threat to their children and 85% say that the easy availability of alcohol in college communities contributes to too much drinking.
Training those who serve and monitor alcoholic beverages in responsible sales and safety practices and eliminating illegal service to underage people are two important measures for reducing easy availability, said Gene Bergman, Burlington's assistant city attorney.Bergman was one of the city officials who worked with the UVM Matter of Degree program in developing the local training program.
"It's widely known that when door staff, bartenders, wait staff and security personnel are properly trained to check ID's, recognize signs of intoxication, know how to deal with problems and serve alcohol more responsibly, many of the health and safety problems that result from underage drinking and intoxication will decrease, both for the drinkers and for those around them," Bergman stated.
The Matter of Degree program also released a "Top 10" checklist of campus and community warning signs to help parents assess their child's risk for alcohol-related problems.Questions about the college's alcohol policies and local requirements for training bar owners and employees to serve alcohol responsibly are included in the list.
"While we can't abandon efforts to help the individual drinker, we have to go beyond these traditional prevention efforts and recognize that the social environment in which an individual operates also influences decision-making," said Vice President Nestor."We firmly believe that the collaboration we've fostered between UVM, city officials, students, concerned bar owners, and interested citizens will create lasting changes in this social environment around alcohol and improve the quality of life for our whole community."
---